VIOLET - HER LIFE IN WORDS AND MUSIC
The life of Violet Gordon Woodhouse, pioneering musician of the early 20th Century
From the book by Jessica Douglas-Home.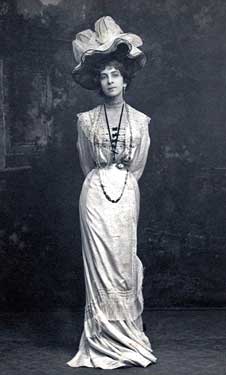 Exotic, talented and the inspirer of devoted passion from both sexes, Violet Gordon Woodhouse (1872-1948) was one of the 20th century's most intriguing and innovative musicians. She became the English 'Landowska' in her passionate and compelling desire to understand and bring back to light the particular beauty of the harpsichord. Her salon was a magnet to many of the most important artists of her age - Picasso, Diaghilev, Rodin, TE Lawrence, Bartok, Wilfred Owen and Vaughan Williams. A fear of convention and a searching nature led her to share her life with four very different men. Violet's story is told in narration and letters, illustrated with music by Bach, Byrd, Scarlatti, Couperin, Mozart, Rameau and Purcell.
This 'entertainment' grew out of a fortuitous meeting between Jessica Douglas Home and Maggie Cole. Discovering a shared fascination with Violet; Jessica as her great niece and biographer and Maggie as a harpsichordist who felt a kinship with such an important female pioneer of the instrument, they set about creating an entertainment that would illustrate her life. A rich source of anecdote was provided by the diaries of Violet's sister, Dorothy and the letters written by Violet's men while away fighting in two world wars. Musically, there was a vast repertoire to draw upon with many of the great composers of the 17th and 18th century providing the emotional backdrop to this remarkable story.
'Violet' is performed without interval and lasts approximately 75 minutes. It is performed by a male and a female actor with Maggie on harpsichord.
Actors who have appeared in 'Violet' include:
Harriet Walter
Lucy Fleming
Anna Chancellor
Janet Spencer-Turner
Maggie Henderson
Lara Cazalet
Anna Chancellor
Dolly Wells
Timothy West
Samuel West
Jeremy Irons
Robert McBain
Henry Goodman
David Mallinson
Guy Henry
Michael Maloney
Guy Paul
Edward Fox
"Like most people, until I had read Jessica Douglas-Home's book 'Violet' I had no idea that Violet Gordon Woodhouse had ever existed. I am so grateful that through performing her words with music on several occasions and in many venues, I have now become familiar with this miraculously musical woman, and her fascinating private life. Although it is the scandalous menage a cinq that is fun to play and amazing for an audience to hear about, being on stage with Maggie Cole and her harpsichord reminds me of what really mattered about this extraordinary woman and the slide show of photographs of the real people at the end of the evening gets me every time."
Harriet Walter
"The whole evening was a joy. Maggie Cole's exquisite playing seemed to take one right into the heart of another great harpsichordist, Violet Gordon-Woodhouse.The meaning of each melody was drawn out with such skill and sympathy and the pieces dovetailed perfectly with the extracts from Violet's letters and life."
Anne de Courcy
"Harriet Walter was simply superb and effortlessly conveyed the brilliance and beguiling complexities of Violet's character. Maggie Cole enthralled the audience with a dozen pieces chosen from the rich and varied harpsichord repertoire that Violet had championed and brought to a new audience. One of the best evening's we have ever held."
Mike Nicholson, Sir John Soane's Museum
All enquiries to mag@maggiecole.net
Top of page